A photo in the dimly lit tasting room. We snagged the table next to the bar and shared it with an older couple and a younger couple. The great thing was the older couple was not intent on drinking as much beer as possible, leaving more for us! Those poor saps behind us didn't get a table because they dragged their feet getting into the tasting room! Suckers!
Another photo in the tasting room. Dave was trying to work the female tour guide/bar tender, hoping to score another pitcher. No dice, but good try Dave!
The Sam Adam's Brewery Tour
The Sam Adam's Brewery tour is simply a great time for any beer lover. But, before you get touring and sampling, you need to find the place. This is a challenge, even on my second trip to the brewery. (
Check out the pics from my first visit here!
) My buddy Erik purchased a GPS enabled cell phone the day before and we relied heavily on it to find our way to this beer lovers mecca. Honestly, leave home early, because you WILL get lost, even with a GPS. But the adventure getting there will only make you enjoy the tasting portion of the trip all the more.
Once you get there and park, you find your way to the proper building and get in line for a a mini walking and talking tour of the surprisingly small facility. The tour kicks off with a promotional introduction video featuring the man himself, Jim Koch. It's a little goofy, but it's clear Jim Koch's personality is the other driving force behind Sam Adam's success. (The first being the great beer!)
As the tour goes on you learn about Mr. Koch's family history of brewing and how his great-great-grandfather (a brewer himself from St. Louis) created the recipe that would one day be renamed Samuel Adams Boston Lager. A little later you get to taste some barley, which taste like grape nuts, and you get to smell some sample hops and discuss how the primary ingredients are used along with water to make some fine beer.
There's a brief discussion on beer styles, and the key qualities of beer including taste, aroma, complexity, body, smoothness, finish, and balance. After that, you get to look closer at some of the large vats used to make the beer. But by now the free beer, just a few feet away in one of the tasting rooms, begins to call my name. It's at that moment that I begin to shuffle closer to where I know, from my previous visit, the door to the free beer is.
Now, I want to stress here how important it is for you to take your time, learn from the tour and participate by asking questions. You might help one of your lesser knowledgeable tour mates learn a thing or two. Having said that, I have a trick or two in mind to help you score the most free samples you can get. I'll tell about them, but you gotta promise not to tell anyone about them or where you learned them. It'll be our little secret, ok?
In this group shot you can see the small sampling glasses they give you to sample the beer and also to take home as a souvenir. Not bad, not bad at all. They different words on them, like "taste" or "smell"... I have almost all of them now... How about you?
Getting more beer than your share
Step 1:
When the tour starts and the video is played, stay in back.
Step 2:
When the group moves towards the barley and hops, get to the front where the tour guide is. Now this is a great opportunity to ham it up with the guide, make a few people laugh and show off how much you know about beer. If that's your thing.
Step 3:
As the crowd moves towards the middle of the facility and looks at the vats, get to the back, near the railing.
Step 4:
turn around, pull out your ID card, and show it to the guide at the door once the tasting room opens.
Step 5:
Haul ass into the tasting room and sit as close to ethe bar as possible.
Step 6:
Share the beer with your table, but fill your glass again, before the pitcher moves on to the next table.
Step 7:
Not everyone will finish their pitchers, be sure to be helpful and offer to pass them back up to the bar for the next round. (Don't forget to finish the pitcher before passing it up.)
And that's pretty much it. Honestly, it works! You won't get enough to get loopy, but that's a good thing, you have another brewery to drive to. You will get enough beer to really enjoy the quality products Sam Adams has to offer. Keep in mind, they give samples of about 4 different beers to give you a range of their products.
Important!
While I did seek out more than my share of the beer, I didn't act like a jerk and nor should you! This is not some college bar hall, and you're not there to get drunk. So, take your time with the beer, and
use the proper method for a tasting!
Be polite to the others, and make sure everyone got to try the beer before you swipe and extra glass. Don't be a jerk! Now shut up and drink up!
Stay tuned for part 3 of Homebrewbeer.net's Boston Beer Tour. Next stop the Harpoon Brewery!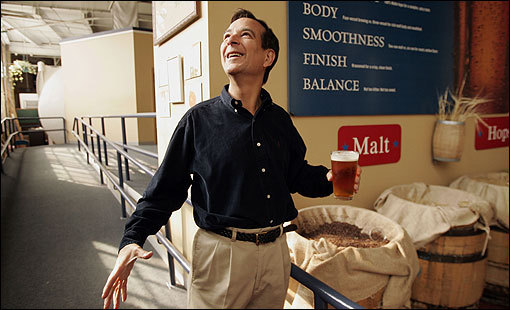 Check out this Sam Adams audio (pod cast) tour of the brewery!